Specialized company for lubricants
Your team from JB-GERMANOIL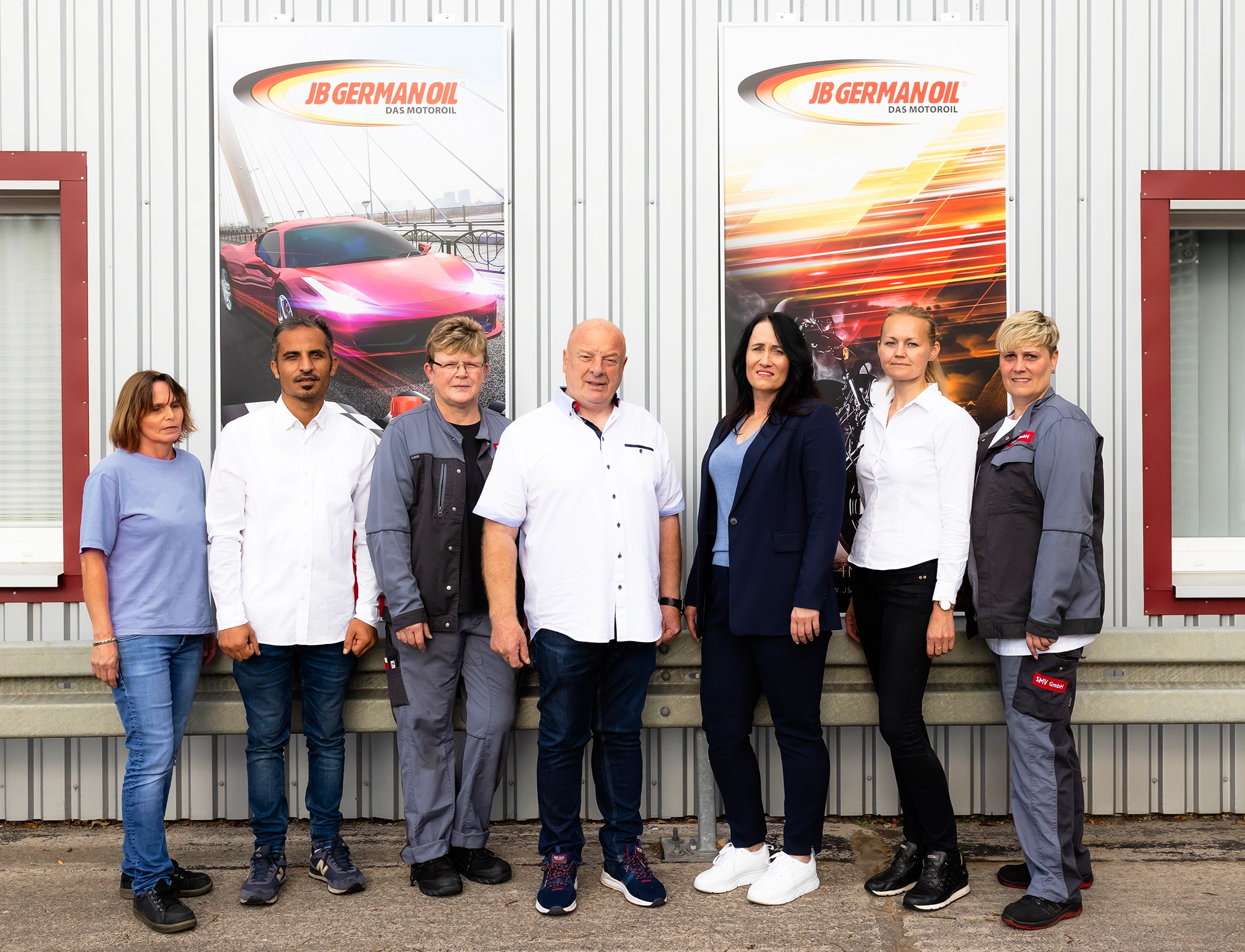 Founded in 1997, JB GERMAN OIL GmbH today enjoys the trust of numerous satisfied customers in more than 51 countries worldwide. With competence, the best service and great customer orientation, as well as attractive prices and great reliability, the company has earned a name for itself and has grown over the years to become a known quantity in the lubricants market. JB GERMAN OIL and its team produce and distribute more than 6,500 tons of high-tech lubricants annually, thus demonstrating its efficiency and competence as a partner, because selling products under one's own name with one's own company logo demonstrates to customers a high reputation in the field of lubricants and strengthens recognition of the company.
At the company site in Wittenburg, directly on the A24 freeway, the company has an office and warehouse complex on an 80,000 square meter site in which over 800,000 liters of lubricants are constantly produced and stored in all commercially available containers for every purpose and area of application. Our portfolio ranges from engine and transmission oils to hydraulic fluids, greases, high-quality 2-wheel and service products, and winter chemicals. In addition to direct collection from the warehouse by the customer to container loading via the Port of Hamburg, not least due to the best connection to the A24 freeway network, there is also a daily nationwide dispatch via DPD and our logistics partner Schenker Deutschland AG to OIL! Gas stations.
The corporate philosophy is clear! To work every day to become even better, all employees have written on the flag, to always live up to the trust of customers and business partners.
JB GERMANOIL delivers to many parts of the world. Strong sales partners play an important role here.
JB GERMANOIL GmbH in Wittenburg near Hamburg
Jürgen Baumgarten is one of the most successful international motocross riders from Germany. The international and national successes on two-wheelers caused a great sensation worldwide.
40 years of international motorsport always with high quality, technical stress on engines and transmissions. Extreme stress, maximum performance of machines and people gave Jürgen Baumgarten the idea of developing oils in cooperation with engineers and chemists that meet the highest demands. This experience through years of successful motorsport is transferred to the series, as a result our products also have international certifications and approvals from the most famous and largest car manufacturers.
Our highly specialized equipment enables efficient and precise filling of engine oil into bottles, canisters or other packaging containers. They ensure that each container receives the right amount of engine oil to meet strict quality standards. With state-of-the-art technology, precise metering pumps and advanced control technology, the filling line is able to achieve high production capacity while minimizing reject rates. This not only ensures product quality, but also significantly improves the efficiency and profitability of production processes.
SUSTAINABILITY -HSSE- CORPORATE POLICY FOR HEALTH, SAFETY, SECURITY & ENVIRONMENTAL PROTECTION (HSSE)
We are committed to the safe and efficient operation of our facilities. Our goal is to prevent all accidents, injuries and occupational health hazards and to protect the environment. To achieve this, we will:
Promote Health, Safety, Security & Environment (HSSE) in all companies and treat it like any other major business area.
Comply with all applicable laws and regulations and apply appropriate standards where there is no relevant legislation.
Have a solid HSSE management system in place where competencies, responsibilities and communication channels are clearly defined.
Provide all employees and contractors with a safe and healthy work environment with proper facilities and appropriate protective equipment.
Identify and analyze potential hazards and vulnerabilities and take actions that avoid, prevent, control, and limit risks.
Always be prepared to respond quickly and efficiently in emergency situations to minimize the potential impact of accidents.
Provide training and job-related education, supported by internal standards, regulations and guidance, to all employees.
Use energy and raw materials rationally, prevent pollution, and promote environmental awareness among employees to minimize harmful impacts.
Define goals that are monitored for achievement to achieve continuous improvement and ensure compliance with all applicable regulations.
The management will visibly and consistently support the implementation of this corporate policy. We expect all employees, contractors and others working for us to support us in ensuring that our HSSE commitment continues to earn the trust of our customers, our neighbors and the community at large.